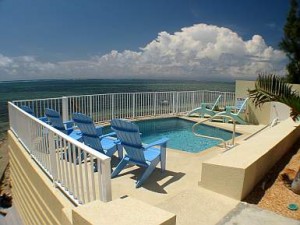 There is absolutely nothing like seeing the sun rise in the east or set in the west across the Caribbean ocean from Grand Cayman. 
At just the right time of the year, part-way through summer, the lightning storms with claps of thunder will drive your adrenallin while giving  you memories to last a lifetime.
Whether you are more inclined to simply sit back and relax on the oceanfront deck or to be out on the move every day, you should take a look at this dream property for your next island vacation.
This beautiful 3 bedroom Caribbean home offers 3 bedrooms plus 3.5 baths available for rent on the eastern coast of Grand Cayman. With some 3-thousand square feet of living space, the property affords you 
all the features and amenities from home. 
*Off Season Rate Promotion presently in effect – from $2,800 to $3,100*
Off Season (Apr 16 – Dec 14) : $2,800/wk (1 – 4 Guests)  /  $3,100/wk (5 – 6 Guests)
Book Now to avoid disappointment:
Checks or Money Orders Preferred – Will Accept Visa, MasterCard, Discover, American Express
Address

:

East End, Cayman Islands

Location Type

:

Waterfront

Type of Property

:

House / Villa

Bedrooms

:

3

Bathrooms

:

2.5

Sleeps

:

6

Price

:

3100

Terms

:

Per Week: 1-Week Minimum

Details

:

Weekly Rental: $2,800 1 to 4 guests | $3,100 5 to 6 guests

Deposit

:

$300 refundable deposit required prior to rental

Daily Rate

:

400

Currency

:

USD

Country

:

Cayman Islands

Island

:

Grand Cayman

Community

:

East End

Pet Policy

:

Pets are not permitted

Contact Name

:

Bill